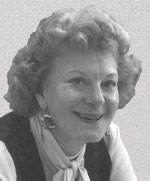 Virginia M. Satir
(1916-1988)
Founder of Avanta

Virginia Satir (1916-1988) was an internationally known therapist, teacher and author. A pioneer in family therapy, she is recognised internationally for her special warmth and powerful ideas about human communication and self-esteem. As a therapist she helped to start the prestigious Mental Health Institute in Palo Alto, California, and continued to develop her approach to counselling individuals, families and nations. She was perhaps best known for her work originating family therapy and with disparate multi-cultural groups, as well as in being instrumental in encouraging others all over the world to establish family therapy training and service programmes.

Referred to as the "Columbus of Family Therapy" and "everybody's family therapist", Satir stayed at the forefront of human growth and family therapy until her death in 1988.
She was a prolific author, defining her constructs, applications and innovations in two important books, "The New People Making", and "Conjoint Family Therapy" which remain classics in the field of family dynamics. Her belief system, her insight into approaches to change, and the powerful interventions she developed in the course of thirty years at the forefront of family therapy, continue to influence many theorists, writers, leaders, and therapists throughout the world. In 1977, Virginia Satir invited people who had trained with her and shared her commitment to growth, to join together in an international network called 'AVANTA' which means 'to move forward'. "I have asked them to join me in using our skills and gifts to help individuals, families and social agencies, businesses, churches, political, and educational organisations to move towards more human and joyful ways of being, living, and functioning." Together with a small number of invited close colleagues, Virginia Satir conceived of forming the Satir Centre of Australia. Just after Satir's death in 1988, the Satir Centre of Australia was formally founded, with the involvement of Professor Maria Gomori of Canada, another close associate of Virginia Satir.
Since Virginia Satir's death in 1988, The Satir Centre of Australia has carried on her clinical work, plus her commitment to developing a professional training network which connects therapists dedicated to using themselves creatively and congruently, in their own professional settings.